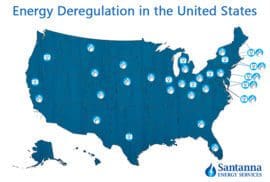 Due to deregulation, many states throughout the U.S. have given you, "the consumer," the choice of your supplier of gas and/or electric service. If you have never heard of energy deregulation or if you have, but have no idea what exactly that means, we will do our best to break it down for you.
To put it simply, energy deregulation means that now you, "the consumer," have a choice on who you want to supply your gas and/or electric to your local distributor. Your local distributor is the energy company that you've always received your energy from (for example, ComEd, Nicor, Duke Energy, Dominion, etc…). If you decide to choose an alternative energy supplier nothing changes in terms of where your bill comes from or who you call for service in the event of a power outage. The only thing that changes is the supplier will be a place of your choosing with a rate that you pick. Just as you can shop around for the best price on things such as food, electronics or vehicles, deregulation has given you the choice to do the same for your energy service. Who doesn't want to find the best price?!
Deregulation has introduced competition into the energy marketplace, meaning potentially money-saving benefits to you, "the consumer," due to pricing options. If you reside in one of the following states, you now have the option to choose an alternative supplier.